The GrammarTrainer Designer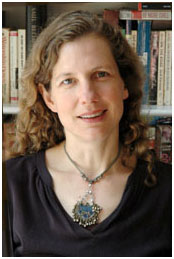 Dr. Katharine Beals has a Ph.D. in Linguistics from the University of Chicago and has 5 years experience as a senior linguistic software engineer in the Natural Language Group at Unisys Corp. She also has extensive experience in teaching and curriculum development in linguistics and English as a second language. The mother of an a deaf and autistic 14 year-old, she has spent 4 years devoted to developing a systematic grammar curriculum for her autistic son to help improve his language skills.
In Autism Language Therapies and the GrammarTrainer Dr. Katharine Beals combines expertise in English grammar, language teaching, and linguistic software design with intimate familiarity with high functioning autism.
Professional affiliations
Publications
Raising a Left-Brain Child in a Right-Brain World: Strategies for Helping Bright, Quirky, Socially Awkward Children to Thrive at Home and at School Shambhala/Trumpeter, September, 2009.
"A role for Grammar in autism CAIs (Felicia Hurewitz, co-author) Proceedings of the 7th international conference on Interaction design and children, 2008.
"Early Intervention in Deafness and Autism: One Family's Experiences, Reflections and Recommendations." Infants and Young Children, October 2004.
"Autism in Daily Life: Big Challenges and Small Miracles." Mothering Magazine, www.mothering.com/small-miracles.shtml.
"The Ethics of Autism: What's Wrong With the Dominant Paradigms and How to Fix Them." Mental Retardation and Developmental Disabilities Research Reviews Volume 9 Number 1, 2003.
Review of Paul Bloom's How Children Learn the Meanings of Words. In LinguistList Reviews, www.linguistlist.org.
Review of Gentner & Goldin-Meadow's Language in Mind. In LinguistList Reviews, www.linguistlist.org.
Courses
"Autism, Language, and Reasoning", University of Pennsylvania Graduate School of Education.
"High Functioning Autism", Drexel School of Education.
"Autism and Language", Drexel School of Education.